Ìrìnkèrindò: a Journal of African Migration will make online research material on African immigration and migration available.
Ìrìnkèrindò: a Journal of African Migration will create a forum for scholars and analysts of African immigration and migration as well as activists throughout the world to participate in debates, exchanges of ideas, and the creation and documentation of knowledge.
Give us a Call
+1-718-951-5000 (ext. 1742)
Meet the Artist & Image Courtesy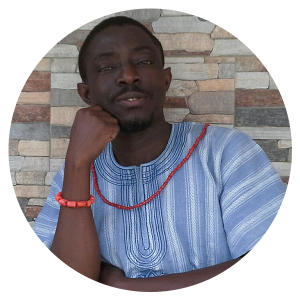 Paul Gbolade Omidiran had his art training at Obafemi Awolowo University Ile- Ife, Osun State, Nigeria where he received the B.A. and M.F.A degrees in 1995 and 2000 respectively. He has to his credit eight solos and several group exhibitions. He has exhibited in Lagos, Kenya, Germany, London and the U.S.A. In 2000, he set up a private studio where he now works as a full time studio artist. Gbolade has also executed a lot of commissioned artistic projects.
Over the years, he has engaged cutting edge methods that explored the use of mixed media, and has now established a magical balance between painting, sculpture, and graphics. Gbolade is a member of Society of Nigerian Artists. He is married to a lawyer and blessed with children. He can be contacted at Omidiran Gallery, no 25, Ede road, a stone's throw from Obafemi Awolowo University, Ile-Ife.
Email: gboladeomidiran@yahoo.com
Phone: +234-8034031136
Website: www.gboladeomidiran.com